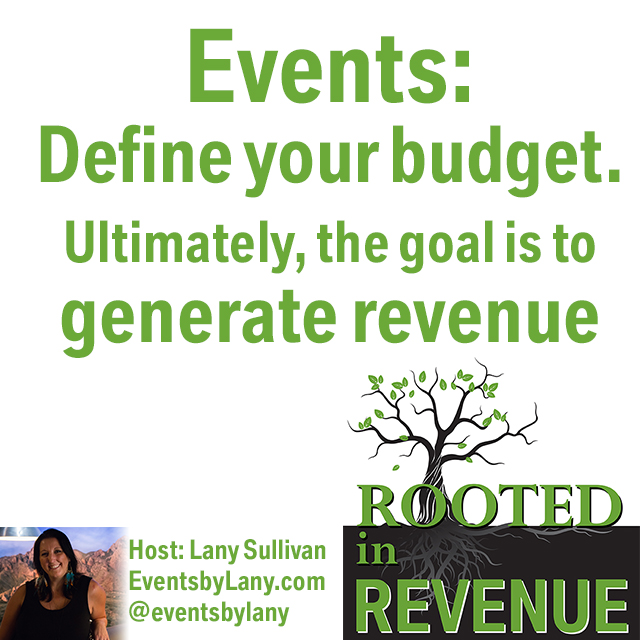 Monday Feb 05, 2018
Defining Your Event Budget
Are you making money or losing money? You MUST have a budget. You must forecast your expenses and plan out your profits to give you an idea of what your numbers may or may not look like. You can't wish on a star and hope it will all be ok.
How much money do you have to spend for this event?

Are you receiving donations from vendors?

Will you be looking for sponsors?

Do you plan on having exhibitors?
Sponsorship is a GREAT way to cover the cost of your event and I know that topic is covered in this summit, so I hope you paid attention.
Do you plan on generating a profit from your event?
If so, make sure you calculate that into your numbers, so that you're not fighting to save your profit at the end.
Do you have a contingency in place?
With everything you do in your event you will need to have a contingency or backup in place, just in case something (inevitably) goes wrong or costs more money than you had originally planned.
Always budget at least 15-20% contingency
Did I mention that things inevitably go wrong? If you don't have room in your budget, then you could be costing yourself more than just money. Think stress, overwhelm, fear, anxiety...yes...you will create a huge burden of stress. So, let's just eliminate that right from the beginning. Plan to have a contingency (or buffer) in your budget for the unexpected.
Let's look at what you need to budget for….
Venue

Decor

Design

Event Tech

Group Activities

Entertainment

Furniture Rentals

Licensing

Insurance

Wifi

Electrical

A/V Equipment & Setup

Staging/Lighting Rental/Vendor

Food/Catering Services

Hotel Accommodations for:

Team

Guests

Speakers

Attendees

Stipend for:

Volunteers

Staff

Speakers

Ground Transportation for:

Team

Guests

Speakers

Attendees

Speaker Honorarium

Advertising/Marketing

Print Services

Staffing

Shipping

Storage

Taxes

Fees

Clean up

Union Fees

Deposits

Cancellation Fees
Get your Quick Start Budget Template or your Full Event Budget at eventsbylany.com/rootedtips