Rooted In Revenue
Guest: Corinne McCormack
Episodes
Tuesday Aug 13, 2019
Tuesday Aug 13, 2019

 
My guest today is Corinne McCormack for part two of the interview we did a couple of weeks ago about how to build a multimillion-dollar business. Yes, you can, and she has some final tips, advice, and strategies for you in this episode you don't want to miss. Here we go.
I'm here with Corinne McCormack, and we have had some great interviews recently and there were a couple of topics though that I wanted to cover with her. Corinne, are you open, let's tackle those last two topics that we didn't get to do in our earlier shows. In your book, From Living Room to Boardroom: How I Launched and Sold a Multimillion-Dollar Business, you tell your whole journey. What I noticed in it is you were very upfront and open to talking about how you were able to borrow against your home to finance the start of your business. You're in New York. You had some equity, you were good. But what do you recommend for people with less than that type of option? Is that a deal-breaker if they can't get that initial funding?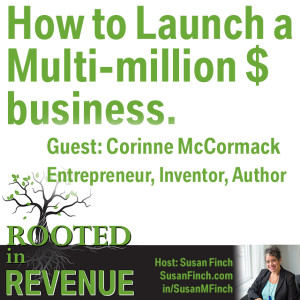 Monday Jul 29, 2019
Monday Jul 29, 2019

This is the first part of an interview with author, entrepreneur, inventor, speaker - Corinne McCormack.
My guest today is author, consultant, seasoned executive, and entrepreneur, Corinne McCormack. We are here today to talk about her new book, From Living Room to Boardroom: How I Launched and Sold a Multi-million Dollar Business. I have it and I love this book. Before I wanted to interview her I said, "Hey, I need your book so that I can read through, get a few chapters under my belt." I couldn't put it down Corinne, I loved it.