Rooted In Revenue
Guest: Whitney Marshall
Episodes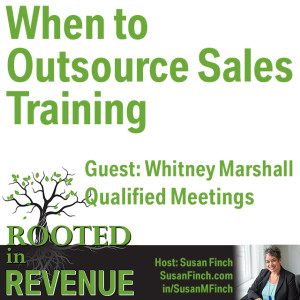 Monday Jan 07, 2019
Monday Jan 07, 2019

Hey CMOs, CEOs how do you have your SDRs embrace an external group of SDRs to train your existing team on how to secure that first meeting and take it to conversion? 
Our guest is Whitney Marshall, Co-Founder of Qualified Meetings. Their goal is to operate as an extension of your sales team – our only goal is to convert highly qualified opportunities that meet both of our standards. 
Why wouldn't you invest in a proven process and full-service program that will predictably grow your pipeline, while simultaneously providing data intelligence, resulting in an improved go-to-market strategy based on real data and conversations? Or do you think hand your reps a call list, sitting them in the corner telling them to dial their little hearts out and close deals is enough training?