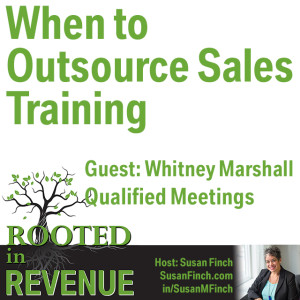 Monday Jan 07, 2019
When to outsource sales training to jump start growth.

Hey CMOs, CEOs how do you have your SDRs embrace an external group of SDRs to train your existing team on how to secure that first meeting and take it to conversion? 
Our guest is Whitney Marshall, Co-Founder of Qualified Meetings. Their goal is to operate as an extension of your sales team – our only goal is to convert highly qualified opportunities that meet both of our standards. 
Why wouldn't you invest in a proven process and full-service program that will predictably grow your pipeline, while simultaneously providing data intelligence, resulting in an improved go-to-market strategy based on real data and conversations? Or do you think hand your reps a call list, sitting them in the corner telling them to dial their little hearts out and close deals is enough training?
About our guest, Whitney Marshall – Sr. Director, Client Engagement & Co-founder
As a skilled professional, Whitney has extensive, in-depth experience specializing in Sales Development from a Client Engagement perspective. As the "foundation builder" for some of the most successful Sales Development programs in the IT industry, Whitney has developed and refined processes that ultimately lead the Sales Development program to be repeatable, scalable and continually functional through any employee changes with the utmost visibility and accountability.
"Working with companies who struggle to put intelligent process and standardization around outbound prospecting has provided me with a wealth of knowledge of this ever-growing commonality in organizations today. As industry sales approaches evolve with new methods and best practices, a program that can maintain integrity, revenue contribution and expansion through these changes has proven to be a critical component lacking in a growing number of businesses. With qualifiedMEETINGS, we are able to customize, implement and manage a process that is repeatable and scalable, all while providing intelligent analytics and the highest qualifiedMEETINGS for our customers' pipelines".
Whitney began her Client Engagement career with ForeScout Technologies where she co-developed, implemented and managed a program that streamlined onboarding, lead transfer, opportunity creation and analytics which was the foundation for exponential growth in new logo acquisition. Recently coming from CollabNet where she introduced and implemented the program management process for Sales Development, Whitney is bringing this highly sought after expertise to qualifiedMEETINGS. Her knowledge expands to companies that want to grow their pipelines year over year with a program that has proven results.