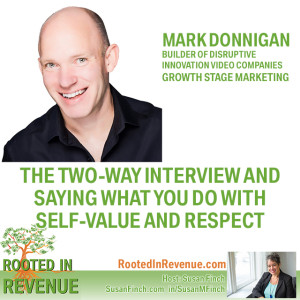 Wednesday Sep 15, 2021
The Two-Way Interview with Mark Donnigan
Mark Donnigan from Growth Stage Marketing says, "It's important that a professional team work together and all the executives should be rowing in the same direction and all these kind of truisms, which are all true but there are some very profound implications to how we market and how we sell, which gets wrapped up in go to market as a result of the fragmented buyer's journey that we are in today." He also reminds us, "think about how you talk about yourself, how you talk about what you do. And even as a full-time employee, in fact, I could argue that as a full-time employee, it matters as much or even more because it's so amazing when you hear one person who just describes themselves in kind of the HR job description. What do you do?" Listen to the first half of this interview to walk away walking a little bit taller, and able to go into interviews with more confidence.
About Susan's Guest:
Mark Donnigan designs and executes marketing programs and go-to-market strategies that build markets and establish disruptive innovation companies as a category king. With 20 years of experience as a transformative and strategic B2B marketing and business leader Mark understands what's required to succeed in today's winner takes all market. Leveraging marketing and growth tactics that work, Mark produces real business results for early and growth-stage technology and disruptive innovation startup companies. Being well versed in SaaS, software licensing, wholesale, and retail distribution models, he helps companies build nimble, highly efficient marketing teams that routinely outperform larger marketing groups. Mark is passionate about extracting the most value from every marketing dollar invested. He provides startup founders in the early stages of building their sales engine with high-impact marketing playbooks so that they can reach their revenue goals and scale sustainably.