Rooted In Revenue
Guest: Mark Donnigan
Episodes
Wednesday Sep 22, 2021
Wednesday Sep 22, 2021

Christopher Lochhead wrote a book called Play Bigger. He was the CMO of Mercury Interactive and a couple of other real high-flying Silicon Valley startups and just an awesome guy. But he has a saying. He likes to say, "Thinking about thinking is the most important thinking you do. A lot of what we're talking about is stepping back because it's so easy to default to, Hey, I just raised my Series A; I'm in MarTech, let's go get somebody out of drift or let's go get a sale.
Let's go find someone in Salesforce marketing. Let's go get a director from Salesforce to run our marketing. Oh, they'll crush it for us. And it's a natural default, right? And then a person comes in and because they weren't clear... And usually that person, they don't know how to vet. So, they're told this and they're super excited. Oh, wow. This is my chance. Put a stamp on it, but they forget that I'm not going to be in Salesforce anymore. Meaning, I'm not going to have, first of all, the Salesforce brand and just all the power of that. I'm not going to have all the resources.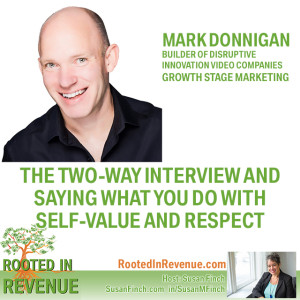 Wednesday Sep 15, 2021
Wednesday Sep 15, 2021

Mark Donnigan from Growth Stage Marketing says, "It's important that a professional team work together and all the executives should be rowing in the same direction and all these kind of truisms, which are all true but there are some very profound implications to how we market and how we sell, which gets wrapped up in go to market as a result of the fragmented buyer's journey that we are in today." He also reminds us, "think about how you talk about yourself, how you talk about what you do. And even as a full-time employee, in fact, I could argue that as a full-time employee, it matters as much or even more because it's so amazing when you hear one person who just describes themselves in kind of the HR job description. What do you do?" Listen to the first half of this interview to walk away walking a little bit taller, and able to go into interviews with more confidence.